PERTH METRO
PLUMBING
KWINANA PLUMBING AND GASFITTING SERVICES
CALL - 0458 007 300
NO CALL OUT FEE
FULLY INSURED
FULL SERVICES
Professional Plumber Kwinana
Conducting a range of Plumbing Kwinana and Gasfitting Kwinana Services
Perth Metro Plumbing is a local drainage and plumbing company dedicated to providing reliable services on top of excellent customer service. Composed of a team of licensed plumbers and gasfitters with the accreditations to conduct a range of domestic and commercial plumbing and gas services in Kwinana, we carefully assess all situations before proposing a solution. With vans stocked with emergency plumbing and gas equipment as well as quality spare parts, our certified plumbers and gas fitters are always ready to install, maintain, or repair a wide range of domestic and commercial fixtures and appliances. Get in touch with us for 24/7 emergency plumbing Kwinana services!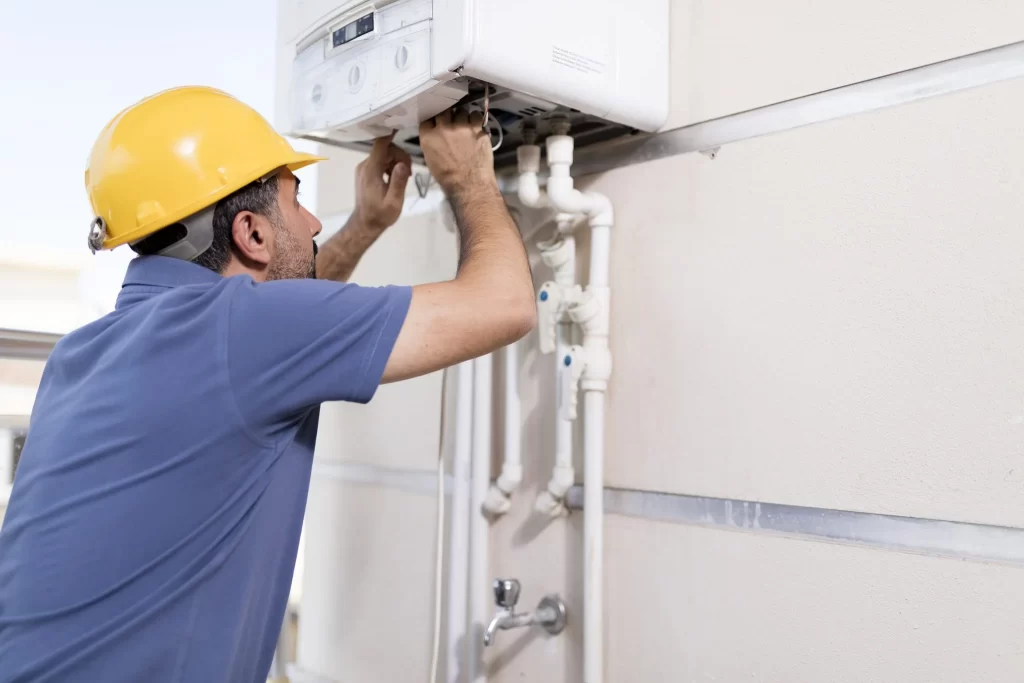 What to Expect From a Plumber Kwinana Team
Finding a trustworthy plumbing Kwinana service provider is critical to the health and safety of your family and your property. If you don't know what to look for and decide to do the repairs on your own, you may end up with further plumbing problems. Hiring a reliable plumber Kwinana team such as Perth Metro Plumbing will save you time and effort. Whether you have a clogged sink, a slow drain or a broken hot water heater, our range of services can solve any issues in your home. As an accredited plumbing and gas company, all our works are guaranteed and insured, so rest assured that you won't break the bank when you avail of our services. Many Kwinana plumbers charge call-out fees, but Perth Metro Plumbing doesn't and offers free quotes! 
For scheduled or same-day services, contact Perth Metro Plumbing on 0458 007 300 today!
HOT WATER PLUMBER KWINANA
We provide a range of hot water services, including installation, servicing and replacement. Our team of professional plumbers also carry a range of appliances for all make and models of hot water systems including electric, gas and solar units. 
BURST WATER PIPE PLUMBING KWINANA
Our licensed plumbers have the experience to repair all types of domestic and commercial burst water pipes. Our experienced team are equipped with the latest tools and techniques to provide efficient repair services.
GASFITTING PLUMBER KWINANA
We install and service all leading brands of gas appliances including Bosch, Rinnai, Rheem, Dux, Zip, Stiebel Eltron, Everdure, Braemar and Chef. Wherever you are in Kwinana, we can reach you for all your gasfitting needs.
24/7 EMERGENCY PLUMBING KWINANA
Our 24/7 emergency plumbing services in Kwinana includes the surrounding suburbs. For a no call-out fee, our team of licensed plumbers and gasfitters can reach your domestic or commercial property asap.
FIX LEAKING TAPS & TOILETS
KWINANA
We provide repair and replacement services for all leaking fixtures throughout Perth, including Kwinana. We carry spare parts for emergency repairs to leaking taps, toilets and other fixtures.
GAS APPLIANCE SERVICES
KWINANA
Let our team of licensed gasfitters take care of your gas appliance installation and maintenance for a valid warranty. At Perth Metro Plumbing, all our domestic and commercial works are accredited and insured.
Our team provides complete gasfitting services, including installation and repairs of gas appliances and other gas-operated systems. We can help with hot water units, gas bayonet points, medical gases, ventilation and more.

FIXTURES, TAPS & MORE
KWINANA
We supply and install all basins, baths, sinks, taps and toilets for plumbing replacement and upgrades. We also service and maintain all types and models of plumbing fixtures from most leading brands.
BLOCKED DRAINS & PIPES
KWINANA
We have a standby team ready to come to Kwinana to unblock your drains, pipes and sewers. Our team are professionally-trained and equipped with the latest equipment to unblock all plumbing problems.
RETICULATION PLUMBER KWINANA
Our range of reticulation services and solutions for buildings and households include construction and maintenance. From basic design to entire property systems, our plumbing Kwinana team will account for all requirements.

DEEP SEWER CONVERSION
KWINANA
 Although a large and invasive process, a conversion project is never too hard for our team of expert plumbers. We can convert your septic tank to create a main sewer that can facilitate a better plumbing system for your home or commercial property.
STORM WATER PLUMBERS KWINANA
Perth Metro Plumbing are stormwater plumbers that can create a system to facilitate stormwater plumbing for residential and commercial use in Kwinana. Speak to our team for more information!
Trusted Plumbing Kwinana Services | Plumbing Perth Southern Suburbs
No Call Out Fees And Fully Insured!
Call 0458 007 300 or use our form to get a plumber at your property today!
Premium Plumbing Kwinana Services
Perth Metro Plumbing is a proud member of the Master Plumbers & Gasfitters Association of Western Australia. We are composed of a team of licensed and accredited plumbers and gasfitters, plus apprentices and tradies servicing the Kwinana area and the surrounding suburbs. We take our responsibility to our customers in the city and surrounding areas very seriously. Our services are available 24/7, 365 days a year, ensuring that whenever you need us, our Plumber Kwinana teams are always ready to help. Whether you've been having recurring issues or it's the first time you've experienced this plumbing or gas issue, we will get to the bottom of the problem and come up with a permanent solution that won't break your bank.
Your Trusted Plumber Kwinana Team
Committed to providing each customer with excellent plumbing services, Perth Metro Plumbing has established itself as the go-to plumbers, gasfitters and technicians in Perth including Kwinana. All our services are in accordance with the Plumbing and Drainage Standards and Plumbing Code of Australia. All of our work is fully insured and completed by experienced tradies, licensed plumbers and licensed gasfitters. Backed by years of experience and training, our teams have the knowledge to carry out any plumbing and gas job, regardless of the scale. For a zero-call out fee and a no-obligation quote, phone us today at 0458 007 300.
KWINANA PLUMBING | EMERGENCY PLUMBER KWINANA | PLUMBING KWINANA | GAS PLUMBER KWINANA